COVID-19, caused by SARS-CoV-2, continues to spread quickly in the United States and around the globe. A vaccine against SARS-CoV-2 is well-acknowledged to be the most reliable route to controlling COVID-19 in the long term. The United States is making a significant investment in several vaccine candidates to prevent the spread of SARS-CoV-2 in the population.
A growing number of Americans have expressed strong reservations about vaccines in general and a COVID-19 vaccine in particular, even among those who have previously expressed trust in the medical establishment and vaccines. An analysis of both traditional and social media indicates that a substantial portion of the U.S. population say they will not take a COVID-19 vaccine. The reasons behind this hesitancy differ considerably and have yet to be fully understood.
The Reagan-Udall Foundation for the FDA is assisting the Food and Drug Administration (FDA)'s Center for Biologics Evaluation and Research to better understand the communication/perception barriers that lead so many Americans to feel hesitant about receiving a COVID-19 vaccine, when available, specifically perceptions related to FDA's role in vaccine review and authorization/approval. This project aspires to gather and understand concerns and identify messages and potential messengers that may help to improve understanding about COVID-19 vaccines. The goal is to provide the vaccine-hesitant with the information they need to make an informed decision regarding whether or not to receive a COVID-19 vaccine, when available.
The Foundation presented on this work-in-progress – focusing on what we heard in our initial listening sessions with key audiences – to FDA/CBER's Vaccines and Related Biological Products Advisory Committee. You can watch the full October 22, 2020, meeting here. Our COVID-19 Vaccine Confidence Project presentation is at the 3:35:30 mark.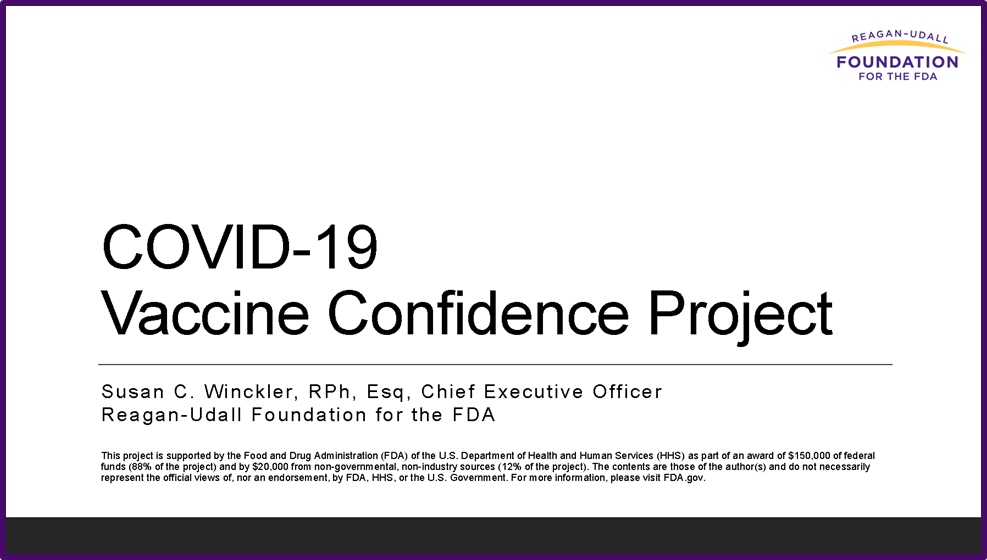 In December 2020, The Foundation concluded its Vaccine Confidence Project and developed a final executive summary inclusive of the themes, messages, and survey results to help health care professionals, and other health community leaders in their work regarding the COVID-19 vaccine. You can view the project's findings below.